Last year, the Xiaomi Mix 5 has been an active topic of discussion among rumor mongers and other tech enthusiasts. However, in a strange turn of circumstances, all the hype surrounding the phone soon died out. The Mix 5 was supposed to be launched in 2022, but it was canceled for unknown reasons. However, the phone seems to be back in the reckoning again as a recent report suggests that there is a possibility that the device could launch in 2023. This no doubt is going to be a sweet piece of news to those who were eagerly awaiting the release of the Mix 5 handset.
A live image of the purported Xiaomi MIX 5 was leaked by tipster DCS on Weibo. The device has a boxy design with symmetrical bezels and an under-display camera, which is a departure from the usual design of Xiaomi smartphones. Interestingly, the device looks similar to the Red Magic 8 Pro gaming smartphone, which was recently released. Upon closer inspection, it is likely that the device is actually the Red Magic 8 Pro, as the antenna lines are in the same positions. However, if it is indeed the Xiaomi MIX 5, it could potentially have the following specifications.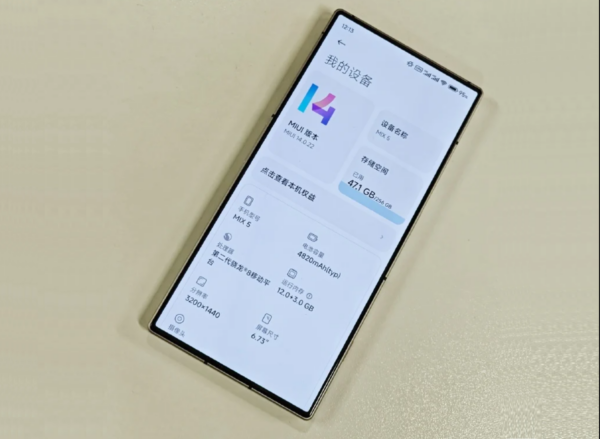 According to a leak, the Xiaomi MIX 5 is expected to come with an array of impressive features. The device is believed to come with a large 6.73-inch AMOLED display with a high resolution of 3200 x 1440 pixels. It is also rumored to run on a Snapdragon 8 Gen 2 SoC coupled with 12 GB of RAM and 256 GB of internal storage. The MIX 5 could pack a 4820 mAh battery that should let it last more than a day quite comfortably. Furthermore, the device could run on MIUI 14 which is based on Android 13. These specs indicate that the MIX 5 could be a powerful and capable device worth waiting for, although it's not certain that the leaked image is authentic.
Previous rumors had suggested that the Xiaomi MIX 5 would feature a 200W fast charging capability, but it is unclear if this feature will make it to the final version of the device. There were also reports that the device would come with a 48 MP front-facing camera and a triple-camera setup on the back, which would include a 50 MP OIS lens, a 48 MP ultra-wide sensor, and a 48 MP telephoto lens with 2x optical zoom. However, there is no official confirmation yet regarding these camera specifications. It remains to be seen if the final version of the device will match these rumors or if there will be any changes made to its features.