Xiaomi is mainly known as a smartphone brand. But other than launching smartphone the Chinese company also launches several fitness centric gadgets like Mi Band and Smart Watches. When company launched a slew of fitness products there was a need for an app so users can control and customize their fitness bands and smartwatches. Xiaomi come up with the Mi Fit app. The Mi Fit app is an official app for every Mi wearable device.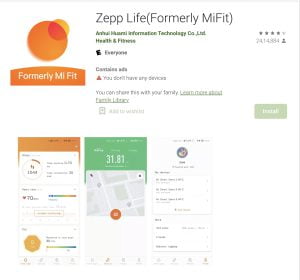 It comes preinstalled on every Xiaomi, Redmi and Poco smartphone. The app is also available on the Google Play Store. So anyone can install it on their smartphone and start managing the wearables. By now the app was available with a name of Mi Fit but now it is rebranded to Zepp Life. The rebranding is already reflecting on the Google Play Store. You can have a look on it.
You might be wondering Mi Fit is rebranded to Zepp Life. To understand it I will have to introduce Amazfit to you. You might have already heard about it. It is a wearable arm of Huami. It is Huami that makes the Xiaomi devices. Recently Amazfit app went through a rebranding and now it named as Zepp. Xiaomi wants the complete wearable lineup to feature a single brading that's the reason why Mi Fit is rebranded to Zepp Life.
If you install the Zepp Life app you will not notice any huge difference. The interface remains the same and so is the features. As of now only the Logo and name is changed. However you can expect a make over of the Zepp Life app really soon. Talking about the app version the Mi Fit app version was 5.6.0 whereas Zepp Life is boasting a 6.0 version. When you will upgraded to the latest version you will notice the new name and logo.
Xiaomi is also planning a new Zepp OS for the upcoming Mi Band 7 Series. Don't get surprised if you find your next Xiaomi Smartwatch running on a brand new Zepp OS. Anyways what are your thoughts about Mi Fit rebranding to Zepp Life? Drop a comment and let us know.