Xiaomi just announced the new Mi Boost Pro Power Bank 30000mAh in India under the crowdfunding model. The power bank supports for maximum of 24W (9V-2.6A) USB Type-C input and 18W output offering fast charging.
This new power bank is quite bulky and has Polycarbonate and ABS body. In terms of connectivity, it has two USB Type-A ports with a maximum 18W output and a USB Type C port. It has four LED charge indicators and a power on/off button which lets the user know the charge as well.
This new power bank brings all the nifty features that are present in other Mi power banks like the low power mode that is mainly used to charge Mi Band and headsets. For frequent flyers this power bank can prove to be a hassle as the maximum capacity power bank allowed in flights is 20,000mAh.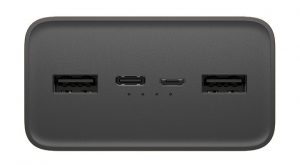 Xiaomi 30000mAh Mi Power Bank 3 specifications
Capacity: 30000mAh, 3.7V, 111Wh battery
USB Type-A Output –  5V-2.4A / 9V-2A / 12V-1.5A
USB Type-C Output– 5V-3A / 9V-1A / 12V-1.5A
USB Type-C Input – 5V-3A / 9V-2.6A
Micro USB Input – 5V-2A / 9V-2A
Protection from over current, over-power, short circuit, intelligent temperature control, and more
Charging time: 7.5 hours (using 24W PD charger), 10 hours (using 18W charger)
The Mi Boost Pro Power Bank 30000mAh comes in a price tag of INR 1,999 and is now available for pre-order through Crowdfunding with a goal of 5,000 units in 15 days. The shipping for these orders will commence on May 15th. Post this Crowdfunding round, the prices will go up to INR 3,499