Xiaomi and its sub-brands Redmi and POCO after recent MIUI updates have enabled Wi-Fi calling or VoWiFi. At this point in time, only Airtel and Jio have this service running on their networks.
This service can essentially be used by you on Airtel WiFi or Jio WiFi Calls (For the Indian market) on Xiaomi phones provided they are in the compatible device list and are running on the latest MIUI version. Some of the devices in the compatible list are the Redmi Note 7 series, Note 8 series, Note 9 series, Note 10 series, Mi 10 5G, Mi 10T series, and some POCO models.
For the sake of this guide, we tested the steps mentioned in the post on a Redmi Note 7 running the latest MIUI 12 update. But before we jump into the guide, let's first understand what Wi-Fi calling is.
What is Wi-Fi Calling?
WiFi calling which is often known as VoWiFi in technical terms means voice over wifi. It is one of the newer technologies that have gained popularity with the advent of LTE. It is a technology that allows customers to make and receive calls over a Wi-Fi network using their existing phone numbers. In this call, data is uploaded on the central server and retrieved in realtime using wifi internet thus bypassing carrier networks.
Why Use Wi-Fi Calling?
Wi-Fi calling comes in handy in situations where carrier network strength is usually poor, or the network is too congested leading to call drops and network outage.
Wi-Fi Calling can essentially call drop issues for you.
No additional charges are incurred for using this.
Requirements to Enable Wi-Fi Calling
A wi-fi calling supported smartphone
SIM that supports wifi calling service and with an activated plan
Wi-FI internet connection of either Airtel or Jio (For Indian market)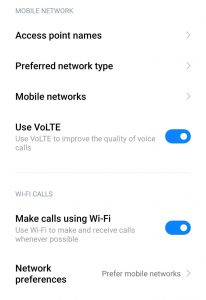 How to enable Wi-Fi Calling on Xiaomi/Redmi Phones
Check for the latest software update and install if any update is available.
Next, connect your phone to Wi-Fi and ensure VoLTE is enabled.
Now Go to Settings->SIM Cards & Mobile Networks.
Tap on the SIM card for which you want to enable Wi-Fi calling.
Make sure the Use VoLTE option is enabled. If not, enable it.
Upon scrolling down you will find an option called Make Calls using Wi-Fi.
Enable it and you're good to go.
For disabling the feature, you need to repeat the same procedure and in the end, just flick the 'Make Calls using Wi-fi' option off. If you followed the steps carefully, have the latest software update installed with the compatible network. You should see the calls automatically shift onto Wi-Fi.
Here is the list of Jio Wi-Fi and Airtel Wi-Fi compatible Xiaomi/Redmi/POCO phones.
This list will change when more devices receive the latest software patch.
Xiaomi Mi 10 5G
Xiaomi Mi 10T/10T Pro
Xiaomi Mi 10i
POCO F1
POCO M2/Pro
POCO X2
POCO X3
Redmi K20/K20 Pro
Redmi Note 10/Pro/Pro Max
Redmi Note 9/Pro/Pro Max
Xiaomi Redmi 8/8 Pro
Redmi Note 7/7 Pro
Redmi Y3
Redmi 7
This guide applies to all the above-mentioned models and will generally work with newer models as well with the latest MIUI 12 update.