Xiaomi is among the top-selling brands in India. They are known for giving top-notch hardware at a fraction of the cost. To cover this gap in the smartphone price, they bundle a bunch of services in the Chinese market but for India, the brand heavily relies on ads.
When scrolling through the UI on any Xiaomi product, you could see the ads sprinkled all throughout the system apps and general UI. While Xiaomi has been providing an ad-free experience on Mi branded and POCO phones, phones sold under the Redmi branding still carry these ads.
During the launch of MIUI 12, Xiaomi did mention the presence of a one-tap option to disable system-wide ads, but that feature didn't make it to the global builds of MIUI. Since then, there have been several fixes that active MIUI users found out to try and combat the ads. If you are one of those users who are fed-up with these ads on MIUI, follow this guide carefully to get rid of these ads on your Xiaomi phone.
Before we start the guide, please make sure that you are on the latest MIUI 12 update and are following the guide step-by-step carefully. For the purpose of demonstration, we used a Redmi Note 7 for this guide, and some settings might differ on your phone.
How To Disable The MSA Process
MSA or the MIUI System Ads is the core component that enables the ads on MIUI. Disabling this is easy and straightforward. After disabling MSA, you should notice some change straightaway. To disable MSA: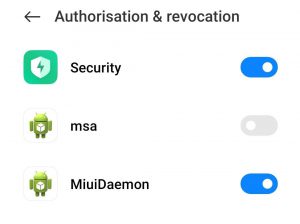 Open the Settings app
Navigate to Passwords & security > Authorisation & revocation.
Here you'll find MSA, go on it and disable MSA.
After this, scroll down further and disable GetApps.
You will see a 10-second warning message pop-up, asking you if you're sure and want to change these settings.
After the countdown, press Revoke. In case it doesn't let you toggle it off in the first go, try it again.
After this do a reboot and upon boot up, check these settings once again.
READ | Xiaomi released the list of devices getting MIUI 12.5 Update in India
How To Disable Ads in MIUI 12 System Apps
MIUI 12 has ads baked into the system apps as well and we need to disable the settings in those respective apps as well. But before that, we need to remove the personalization settings in the Privacy settings which pulls in ads and recommendations as well.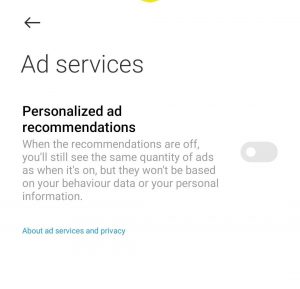 Open the Settings app
Navigate to Password & security, then go to Privacy.
Now tap the Ad services and disable Personalised ad recommendations. This turns off the data collection to give you relevant ads.
Moving to individual apps now.
Turn off ads from the File Manager app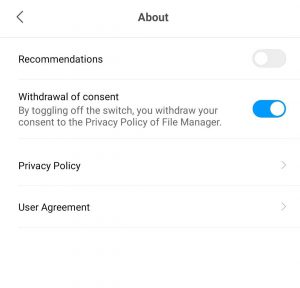 Open File Manager app.
Tap the hamburger menu on the top left.
Now go into Settings.
Go to About > disable Recommendations.
How To Turn Off Ads From Downloads App
Open the Downloads app.
Tap the menu > Settings.
Disable the toggle for Show recommended content.
How To Turn Off Ads From Security App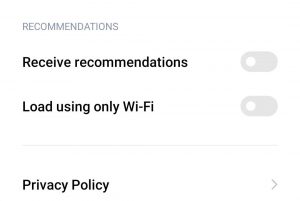 Open the Security app
Tap on the Settings button > Receive recommendations.
How To Turn Off Ads From Music App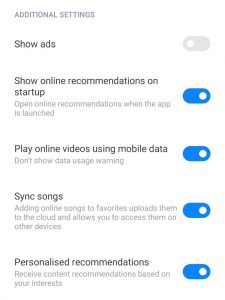 Open the Music app.
Head over to the menu > Service and settings
Now select Advanced settings > Receive recommendations.
Some other recommendations here can also be safely disabled like Online recommendations on startup and Song recommendations.
How To Turn Off Ads From Themes App
Open the Themes app.
Move to My page > Settings
Disable the toggle for Recommendations.
How To Turn Off Promoted Apps
System-made default folders such as Tools and More Apps often show you Promoted apps when you open them. To disable them: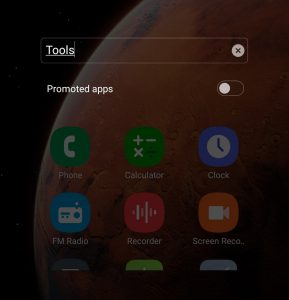 Open Tools and More Apps folder > long-press on the name of the folder, in order to rename it.
Turn the toggle off for Promoted apps.
After following all the steps mentioned above successfully, you might not see any ads in the UI. If some do still show up, you would need to check that from the recently running, these ads could be slipping in via any installed app on your phone.