Xiaomi has recently unveiled the Smart Band 8 alongside the Xiaomi 13 Ultra. The latest iteration of the Smart Band series features a slightly tweaked design with a quick-release mechanism and a sleek metallic texture. The band 8 has two new middle frame color options: "light gold" and "bright black." The band comes with various strap options, including a novel necklace-shaped strap and a leather strap.
Xiaomi Smart Band 8 specifications
The Smart Band 8 boasts the same 1.62-inch AMOLED display as its predecessor, with a resolution of 192 x 490 pixels, a pixel density of 326 PPI, and a maximum brightness of 600 nits. It offers over 150 training modes and a smart health assistant that includes features like SpO2 monitoring, heart rate monitoring, sleep tracking, and female period tracking.
A new running bean mode provides a more professional running experience, tracking conventional running data as well as 13 professional data points, such as stride frequency, stride length, ground contact vacancy ratio, and ground impact force. This functionality requires the use of running pods, professional training, and anytime running.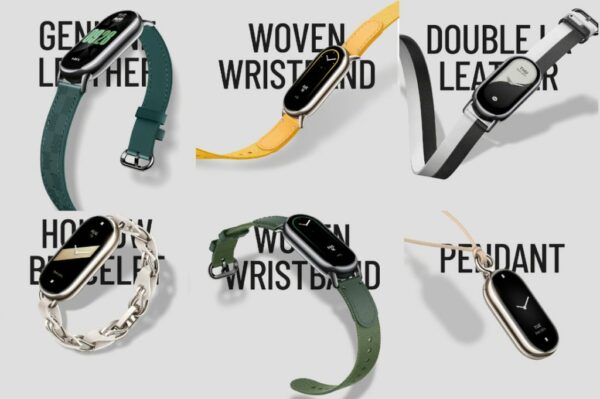 The band can track 150+ workout modes including running course, running bean mode, etc. It carries forwards the old sensor suite and is capable of continuous heart rate tracking, continuous blood oxygen saturation monitoring, as well as 24/7 sleep tracking, and Female health tracking. This time around there are 100+ new watch faces with AOD support something that was missing in older models. As for the battery life, the band packs a 190mAh battery and offers up to 16 days of battery life with typical usage and can be charged in under an hour.
Xiaomi Smart Band 8 price
The Xiaomi Smart Band 8 is available in two versions: one without NFC and one with NFC. The variant without NFC is priced at CNY 239 (equivalent to INR 2,899 approximately), while the version with NFC costs CNY 279 (equivalent to INR 3,350 approximately). Xiaomi is also offering replacement bands that can be bought separately.