When smartphones play a vital role in our lives, losing one or even switching to a new model can be a pain. The key here is storing your stuff onto a cloud; that way, it stays safe and easy to shift to a new phone.
Xiaomi phones, since their early age, have been using the Mi Cloud. However, the amount of storage and the type of data that it permits has changed over time. It is still a very medium to store your vital data. The brand has already sold a Billion+ device, and each of them carries the Mi Cloud.
This post will show you how to restore your data from Mi Cloud to another phone, which may or may not be a Xiaomi product. The Mi Cloud is included in the Mi Account; you can follow this guide to get a new Mi Account. But before we jump into the post, let's discuss what Mi Cloud actually is.
What is Mi Cloud?
Mi Cloud, as the name suggests, is Xiaomi's cloud-based storage service. A similar example of this is Apple's iCloud. For Mi Cloud to work, you need a valid Mi id granted to you once you sign up for a Mi account. Mi Cloud further provides features like backing up contacts, messaging, gallery, notes, call logs, Wi-Fi settings, and more.
Once you are done making a Mi Cloud account, you can essentially access it anywhere by logging into i.mi.com from either a smartphone, tablet, or PC. There is a free 5GB storage tier by default for users, but it can be increased by paying extra. Due to safety concerns in the past, Xiaomi has moved all their critical Mi Cloud services onto Amazon Web Services (AWS) and Microsoft Azure with servers located within India.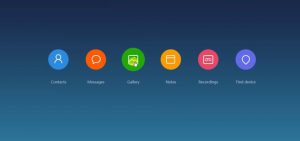 How To Get Started With Mi Cloud?
Once you have created your Mi Account, you can use the same credentials to use the Mi Cloud service. Visit the link i.mi.com and use the newly created Mi Account details to log in. Xiaomi will ask for the registered mobile number used to create the Mi account and send an OTP to verify the same. Once done, you will be able to access all features of Mi Cloud.
Both the Mi account and Mi Cloud give users the flexibility to access the data and features from anywhere by just logging in to the system using their registered credentials.
How To Backup Mi Phone Data To Mi Cloud
Follow these simple steps on your Xiaomi, Redmi, or POCO smartphone to back up your important data to Mi Cloud.
Make sure you have logged in to your Mi Account on your phone.
Now open the Settings app and look for Mi Account.
Upon choosing the Mi account, click on Back up device.
Now select Mi Cloud backup.
Follow the onscreen instructions and complete the backup.
If you followed the above-mentioned steps carefully, you should have a backup ready on the Mi Cloud. Now that we have created the backup, it's time to restore it onto a new Xiaomi smartphone.
How To Restore Data From Mi Cloud Onto A Mi Smartphone
The steps mentioned here can only be used when restoring the backup onto a Xiaomi, Redmi, or POCO smartphone.
On your new Xiaomi smartphone, open the settings app.
Locate the Mi Account settings and Sign in to your Mi account.
Now move onto the backups section and click on Restore from backup.
Select the desired backup.
Once you are sure of the backup, click on Restore using this backup.
Once the above-mentioned steps are completed, your new Xiaomi smartphone should start restoring the backup. Time taken to restore the full backup will depend on the size of it and the internet connection.