We all know by now that Xiaomi and its sub-brands make some of the best-selling smartphones in the market. No other brand has fully matched their value proposition till now. What we don't know is that all these class-leading specs on your smartphones available for a fraction of cost actually are not free.
Xiaomi in their home market in China has a bunch of services from where they make actual money to subsidize these smartphones. These services include ads, selling data packs, selling cloud storage, selling music, apps, themes, and games. Thankfully the Indian audiences only get to see ads and bloatware apps. Now, these bloatware apps are generally all the apps that don't serve any purpose to the broad userbase but are present on the smartphone as a sponsored content.
Meaning, the app maker paid Xioami to get these on their smartphones. These apps include DailyHunt, FaceBook, game stores, app stores, certain games, etc. On MIUI some of these bloatware apps are known to push out spam notifications further degrading the user experience. Now to Xiaomi's credit they have listened to the general userbase and have pulled some of these apps from the pre-installed lists but it is not enough.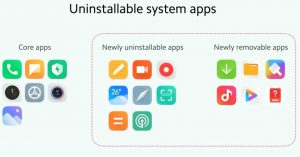 In this guide, we will tell you how to remove bloatware from Xiaomi smartphone running MIUI directly from your phone. Before we jump into the guide, it is necessary to note that we are running the latest MIUI 12 update on a Redmi Note 10, and depending on the software version, some of these apps and methods might not work for you.
There is also a Desktop method that requires you to install additional software onto a laptop and then using it remove some of these apps on your phone. For the sake of simplicity, we will not be following that method here as it is known to cause issues, and if by mistake a critical app or service is removed from your phone that could have a negative impact on the user experience.
Using a similar approach, you can actually remove the ads and spam notifications on your phone running MIUI. For that, you can follow our guide here.
Let's follow this guide thoroughly to uninstall the pre-loaded apps right from your smartphone.
First, let us figure out all the apps that came pre-loaded with your Xiaomi smartphones. These may differ with the different MIUI versions. The newer smartphones come with fewer pre-installed apps. Our Redmi Note 10 only came with Amazon, Netflix, Facebook and LinkedIn, Mi Remote, Mi Credit, and Mi Doc Viewer as extra third-party apps.
To remove them, go to Settings > Apps > Manage apps
Now just select the apps you want to remove and then tap uninstall all.
There might be some recommendations popping up here and there all throughout the UI and you can disable that using this guide. If you followed up the guide carefully, most of the bloatware should be removed by now. There could be some apps left and those need to flushed out using the desktop method which is quite tedious.
For unsuspected users, this method works flawlessly on phones running MIUI no matter if it's a Redmi, Xioami, or a POCO device.