Xiaomi today announced the Xiaomi Smart Glasses, a pair of smart glasses from the brand. This concept product looks and feels like an ordinary pair of glasses but hides a small projector and runs on Android.
These integrate MicroLED optical waveguide technology to display texts and graphics onto the lens. Xiaomi Smart Glasses has a display chip measuring just 2.4mm x 2.02mm. By adopting optical waveguide technology which refracts lights at 180°, the MicroLED display accurately transmits light beams to the human eye through the microscopic grating structure of the optical waveguide lens.'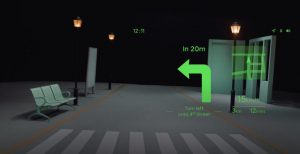 The UI on these is quite intuitive, and they can help you make calls, look for directions, live translation and more. Xiaomi Smart Glasses can present roads and maps in front of you in real-time so that you can keep your eyes on the road safely and conveniently. The 5MP camera on the front of the glasses can also take photos and translate text into photos, which is highly convenient when travelling. By utilizing the built-in microphone and proprietary translating algorithm, Xiaomi Smart Glasses can transcribe audio into text with translations in real-time.
To achieve this high level of functionality, the glasses need to be equipped with a quad-core ARM processor, battery, touchpad, Wi-Fi/Bluetooth modules, Android operating system, and more.