After introducing the 120W fast charging in 2019, Xiaomi has now announced 200W fast wired charging and 120W fast wireless charging. Xiaomi today introduced 200W HyperCharge fast charging technology which is currently the highest ever in a smartphone.
The company made this announcement via a blog post and social media. They also posted a video that shows a phone with a 4000mAh battery that takes just 44 seconds for 10% charge, 50% in just 3 minutes and 100% charge takes just 8 minutes.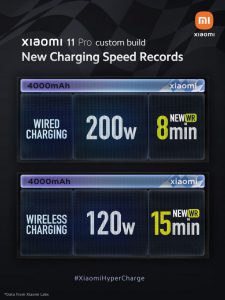 The basic principle in this method is also same as that of the 120W fast wired charging. Though the brand has not revealed much of the technical stuff, we hope this will tie-in with the new USB-C Gen 4 which is going to be announced soon.
Xiaomi also announced 120W fast wireless charging, that can charge the phone's 4,000mAh battery from 0 to 100% in just 15 minutes compared to 19 minutes. For this, the brand modified an already available Xiaomi smartphone and decked up the charging methods. Xiaomi aims to pack this new charging technology in their smartphones soon though a timeline has still not been revealed.