Xiaomi has been on a spree to update its best-selling products and has launched the Xiaomi Portable Electric Air Compressor 1S in the country. This new successor comes with several improvements such as digitally controlled air-pressure sensors that improve inflation accuracy to ±1 psi, up to 150 PSI inflation capacity, and a USB Type-C port.
The air rate on the compressor has also been bumped up to 15L/min compared to 7L/min in the predecessor. This newly updated airflow rate helps re-inflates tires up to 8 times faster compared to 5.5 times in the first-gen model.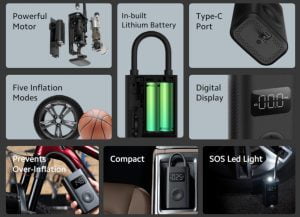 Xiaomi Portable Electric Air Compressor 1S Specifications
Digital tire pressure display
Autofill start/stop with range of 0.2-10.3bar/3-150psi
Built-in Shock-absorbing pad
Built-in LED light for hassle-free to work in dark areas
Tested for excess pressure, pressure resistance, high/low-temperature charging
Noise level less than 80dB at a distance of 1m
2,000mAh built-in lithium-ion battery
USB Type-C charging port
Weight: 480g
Can fill 8 car tires on a single charge
Small and compact form factor, can be carried in a backpack.
Pricing & Availability
The Mi Portable Electric Air Compressor 1S comes in at a price tag of INR 2,999, but it is available at an introductory price of INR 2,799 for the first few sales from Mi.com. The Air Compressor 1S will also be available from Amazon and Flipkart at a later date.