After launching the MIUI 14 build in China last year, Xiaomi has finally brought its latest custom Android skin to the Indian market. The first smartphone to use the new skin and to run Android 13 will be the Xiaomi 13 Pro. The MIUI 14 will be rolled out in a phase-wise manner with the latest high-end devices from Xiaomi getting it first.
MIUI 14 features
The ever-evolving operating system gets a ton of optimizations with the MIUI 14, one of which is the Smart ROM Optimisation, which reduces cached storage by up to 3GB over the course of three months. The amount of system storage has also been decreased, allowing devices with 128GB of storage to receive up to 4GB of freed-up space.
The company claims that MIUI 14 offers the fastest boot-up speeds ever on a Xiaomi device while using 200MB less memory during the boot-up process than MIUI 13 did. In order to free up valuable ROM space for the features that users value most, the company has also significantly reduced the size of the package.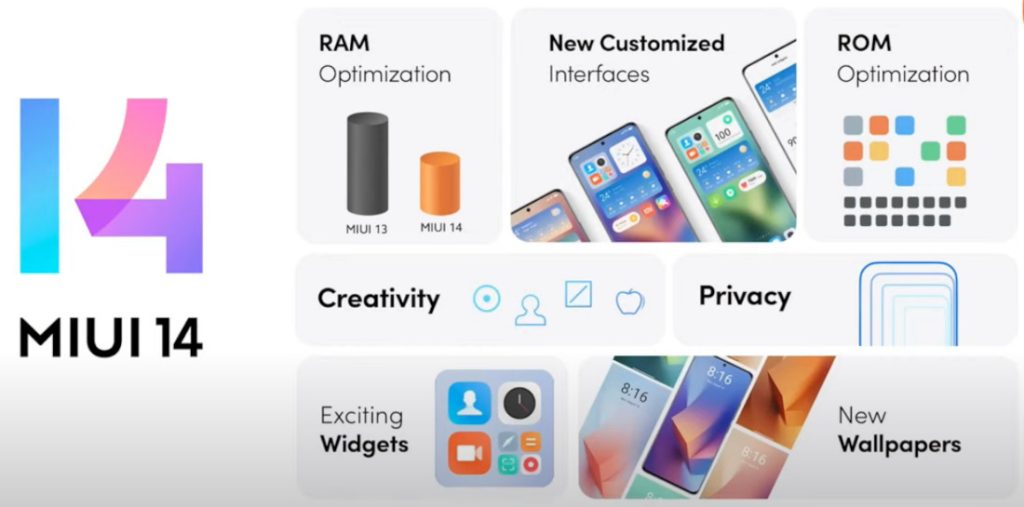 The MIUI 14 also has a redesigned user interface (UI), which gives the OS's external appearance some new life. There are new card-style widgets and 6 new wallpapers to select from. The company also asserts that by employing new algorithms, the animations are now more fluid and have less "friction." The experience has also been improved with the addition of features like copying text from a gallery shot and eliminating things from an image.
MIUI 14 eligible devices
Xiaomi will roll out MIUI 14 to eligible devices in batches. The most recent MIUI update will take at least three quarters to roll out to the entire lineup because of the company's vast portfolio. To make things simpler, the company has also made available an updated roadmap that lists the eligible Xiaomi and Redmi devices. The list of devices receiving MIUI 14 is as follows:
Batch 1 devices (Q1 2023)
Xiaomi 12 Pro
Xiaomi 13 Pro
Redmi Note 12 Pro 5G
Redmi Note 12 Pro+ 5G
Mi 11 Ultra
Mi 11X Pro 5G
Mi 11T Pro
Mi 11X
Redmi 11 Prime 5G
Redmi K50i 5G
Xiaomi 11 Lite NE 5G
Batch 2 devices (Q2 2023)
Xiaomi 11i
Xiaomi 11i HyperCharge
Redmi Note 10
Redmi Pad
Xiaomi Pad 5
Redmi Note 11 Pro
Redmi Note 11 Pro Max
Mi 10i
Mi 10
Redmi 9 Power
Redmi Note 10S
Redmi Note 10 5G
Redmi Note 10T 5G
Batch 3 devices (Q3 2023)
Redmi Note 12 5G
Redmi 10 Prime 2022
Redmi 10 Prime
Mi 10T Mi 11
Mi 10T Pro
Redmi 10
Redmi Note 11
Redmi Note 11S
Redmi Note 11 Pro 5G
Redmi Note 11T 5G