As we reported earlier, Xioami global and Xioami China both have scheduled a Mega Launch for March 29. The brand is working overtime to tease the products that we could expect at the launch next week.
By now, we know for a fact that Xiaomi will indeed be launching the Mi 11 Pro and Mi 11 Ultra, new additions in Mi 11 series next week. These smartphones will make their way not only in the Chinese market but Globally as well, starting with the European market. Today, the brand teased yet another product which will be from the Mi Mix series.
In the past, there were rumors of a possible foldable smartphone from the brand that was sporting the Mi Mix badge. That product could very well launch since Xiaomi is slated to announce three foldable phones this year and the first one is scheduled to launch in early Q2. AS of now, we don't really have much info about the product, apart from the fact that this phone will be the very first one to adopt liquid lens technology.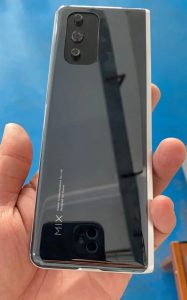 Now liquid lens tech basically replaces the physical camera lens for an oil-based one which can be manipulated when a small amount of current is passed through it. This could prove to be a game-changer in the smartphone space if Xiaomi is able to deliver 100%. We could also see the foldable phone sport an inward fold display, similar to what we see on the Samsung Galaxy ZFold 2.
Apart from this, the Global launch will also see the brand announce two new budget smartphones, the Mi 11 lite 4G and Mi 11 lite 5G. Both of which have been spotted in a number of early unboxing videos. By now we essentially know all about the Mi 11 Lite series except for the price which is going to be very competitive.