As per Canalys's worldwide smartphone shipment data for Q2 2021, Xiaomi has overtaken Apple to be the world's 2nd largest smartphone vendor. The company has achieved a 17% market share with 83% YoY growth.
Xiaomi is now right behind Samsung which controls 19% market share. The other two brands on the list are Oppo and Vivo, the other two Chinese giants with 10% market share each. According to Canalys, Xiaomi's shipments increased more than 300% in Latin America, 150% in Africa and 50% in Western Europe. Compared with Samsung and Apple, Xiaomi's average selling price is around 40% and 75% cheaper respectively, adds the report.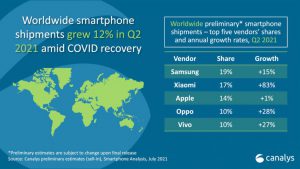 In a letter to all employees, Lei Jun, Founder, Chairman and CEO of Xiaomi, pointed out that becoming the World's No.2 is a key milestone in Xiaomi's history. He said:
"Since 2016, we underwent a comprehensive review of our business, and after five years of self-improvement, we significantly enhanced our product capabilities, and paved our way in the premium market segment and reinforced our position there. We regained our No. 3 position globally in 2020 Q3. Just two quarters later, we made another giant leap.
Xiaomi will continuously strengthen its core capabilities and cement its place as the second-largest smartphone brand."