The surprise entry at the Xiaomi 10th anniversary event was the Xiaomi CyberDog. This is a quadruped robot a similar version of the famous Boston Dynamics robot puppy.
It is an open-source robot companion, with advanced movement and object avoidance systems, high-precision sensors. Under the hood the CyberDog is powered NVIDIA Jetson Xavier NX platform with 384 CUDA Cores, 48 Tensor Cores, a 6 Carmel ARM CPU, and 2 deep learning acceleration engines.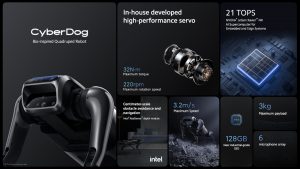 To get the motion going, it uses a new set of servo motors that Xiaomi developed in-house for better efficiency. There are about 11 high-precision sensors including touch sensors, ultrasonic sensors, GPS modules along with an array of camera sensors including AI interactive cameras, binocular ultra-wide angle fisheye cameras, and an Intel RealSense D450 Depth module to get this robot going.
There are Type C ports on this for taking in attachments that Xiaomi is currently developing. The Xiaomi CyberDog will be sold to customers including Mi Fans, engineers, and robotic enthusiasts in China at a price of 9,999 yuan (INR 1,14,900 Approx.) sometime next month.