We saw Samsung recently getting caught forcibly throttling a number of apps, including games on some of their smartphones, which was super seeded by OnePlus getting caught for something similar. Now it appears that Xiaomi is the latest smartphone maker to join the performance throttling club for doing something similar.
Geekbench's co-founder John Poole, claimed on Twitter that Xiaomi is also throttling performance based on app names. Poole ran a number of tests found that disguising the Geekbench benchmarking app as the popular Fortnite game resulted in single-core performance scores dropping by a massive 30 percent. He experienced something similar wherein multi-core scores dropped by 15 percent. Furthermore, similar results were found after disguising Geekbench as Genshin Impact, another popular game on Android.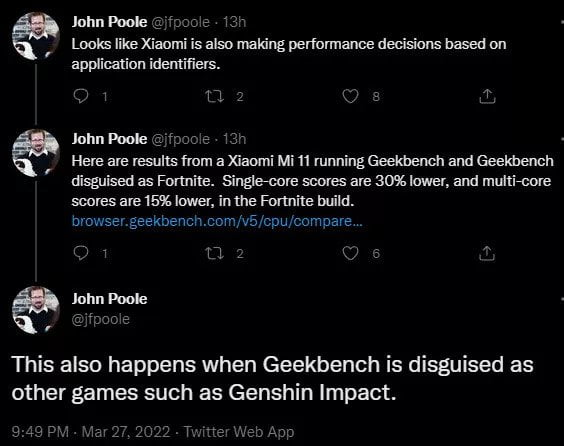 This is not the first time Xiaomi has been caught throttling performance and not reporting it in the public domain. Anandtech also found something similar during their testing of the Xiaomi 11T Pro sometime last year. Now it seems like Xiaomi is doing this intentionally like other smartphone makers to counter the heating concerns that Android users have while gaming and to improve battery life.
These results came out of a Xiaomi 11, the company's last year's flagship smartphone. We know most smartphone makers do this but the lack of transparency is somewhat shocking here. So far Xiaomi has not publically accepted or denied these test results, and we are still waiting for the brand to release a public statement.