We know how popular Xiaomi, Redmi, and Poco phones are in the Indian market. What is common between all three: they run Xiaomi's popular custom skin MIUI. MIUI is quite famous for the number of customizations and the features it offers.
There's a lot that can be tweaked up in MIUI. One thing that we particularly like is the ability to take call recordings. In this Day-and-Age call recording are a tool that can come in handy at any time, any place, and any situation. While we don't see native call recording on many custom UI's and even stock Android and iOS don't have this functionality yet.
Why Do You Need Call Recording?
As mentioned above Call Recording can come in handy at any time, be it during a scam call, for evidence in a case, for taking down notes post a meeting, for save data-keeping. It can even be of use to kids, they can record a lecture over call and later transcribe it to notes.
While we don't get native call recording on many other platforms including iOS. This can be achieved using third-party apps, but you get a sense of security issue with most of them because of the phone access they need at the time of installation.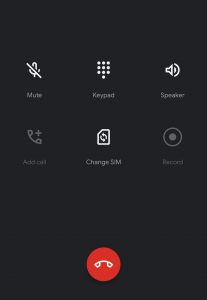 Thankfully we have a robust in-built feature on the MIUI phone dialer, that can be used to take call recordings and even has the ability to auto-record calls. In this guide, we will show you how you can take call recording on a phone running MIUI.
Before we start, make sure you are on the latest version of MIUI and aren't using any third-party dialer app.
How to Enable Automatic Call Recording on Redmi smartphones
MIUI natively provides the users the ability to manually or automatically record calls. it's simple and easy to enable call recording on Xiaomi smartphones. Here are the steps to enable call recording on your Mi, Redmi, Poco, or any MIUI-based smartphone: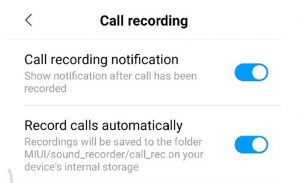 Open the Dialer app on your Redmi smartphone.
Select the More icon situated on the bottom-left corner of the app.
Select the Settings option here
Next, select Call Recording > Record calls automatically
Once you are done with these steps you can have calls recorded automatically. To deactivate this and switch to the manual recording method, follow the above guide again, and in the very last step, disable the 'Record calls automatically' option. After this, you won't be getting calls recorded automatically and instead have to rely on the manual method. For this, you could anytime tap on the record button in the dialer app when on call.
Access Call Recording on Redmi smartphones
Once call recording is enabled, all your recordings will be stored locally on the smartphone. You can access the call recordings by opening the in-built File explorer app and going to this address. Internal Storage/MIUI/sound_recorder/call_rec/ folder.
Else, you could simply head over to the Mi File Manager app to access the recordings and see the recording files from there. Alternatively, there is also a Recorder app that can help you to get the recordings on your Redmi smartphone.